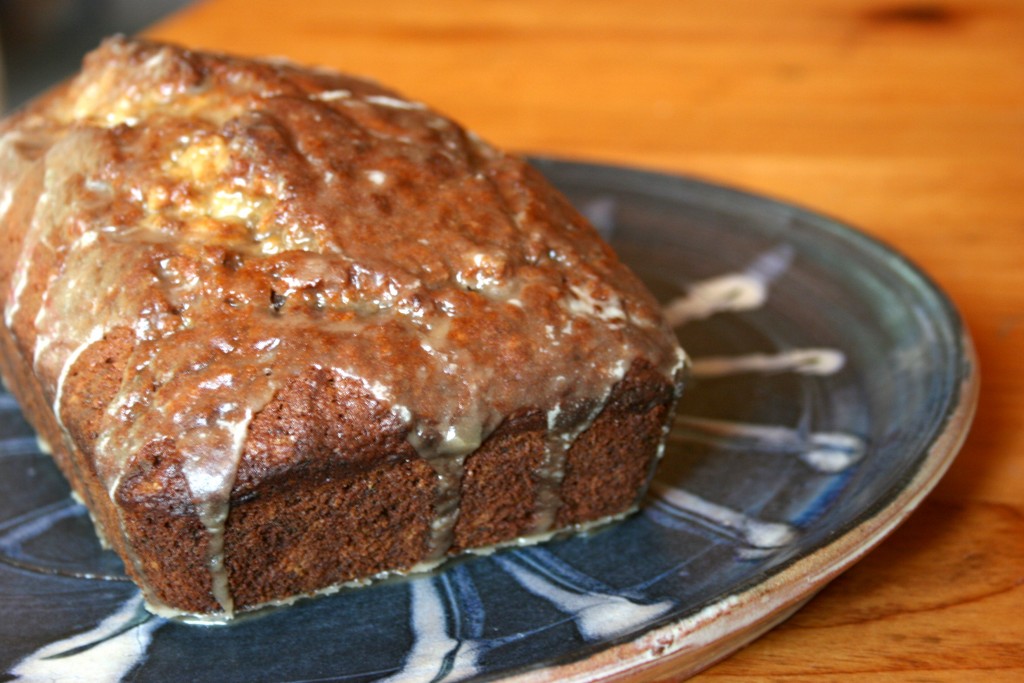 Consider your days of boring banana bread over! This recipe adds an incredibly yummy maple sugar glaze to the top of a not-so-ordinary loaf. Not-so-ordinary because the bread has rum in it! Yep, boozy banana bread to the rescue! Of course, it does add an extra couple steps to your basic banana bread making, but believe me, they're totally worth it. Trying not to eat THE WHOLE THING in a day.

Not your every day banana bread
2015-08-30 13:13:39
Ingredients
For the bread
1/2 c butter, softened
1 c sugar
2 eggs
2 c all-purpose flour
1 tsp baking soda
1/4 tsp salt
3-4 medium or large bananas
2 Tbsp brown sugar
2 Tbs. rum
1 1/2 tsp vanilla extract
1/2 tsp ground cinnamon
For the maple glaze
1/4 c butter
1/2 c pure maple syrup
1 c powdered sugar
1/2 tsp vanilla extract
1/4 tsp ground cinnamon
Instructions
1. Preheat your broiler on high.
2. Place peeled bananas in an oven-safe dish (covered with foil if you want to prevent clean up), pour rum over the bananas, then sprinkle brown sugar over them. Broil for 5-7 minutes or unitl sugar is bubbly. Note: If you don't want boozy bread, you can skip this step and in the next step just add brown sugar to the bowl for the mashing.
3. Mash broiled bananas with vanilla extract and cinnamon.
4. Preheat oven to 350 degrees. Grease a 9 x 5 inch loaf pan.
5. In a large bowl, cream butter and sugar together. Add in eggs and beat until well mixed.
6. Add flour, baking soda and salt to the wet ingredients.
7. Pour in mashed bananas and mix until combined.
8. Pour batter into 9 x 5 loaf pan and bake for 30 minutes at 350, then lower the temp to 325 and bake for another 15-20 minutes until a toothpick inserted into the loaf comes out clean.
9. Cool for 10 minutes then take out of the pan and move to a wire cooling rack.
10. While the bread is cooling, heat butter, maple syrup, vanilla and cinnamon over low heat. Once all melted together, pull off heat and add powdered sugar, stirring until fully combined. Allow to cool for 8 – 10 minutes before pouring it over the bread.
11. Let the glaze to harden completely before cutting into slices.
Adapted from A Latte Food
eatsbykathy https://www.eatsbykathy.com/