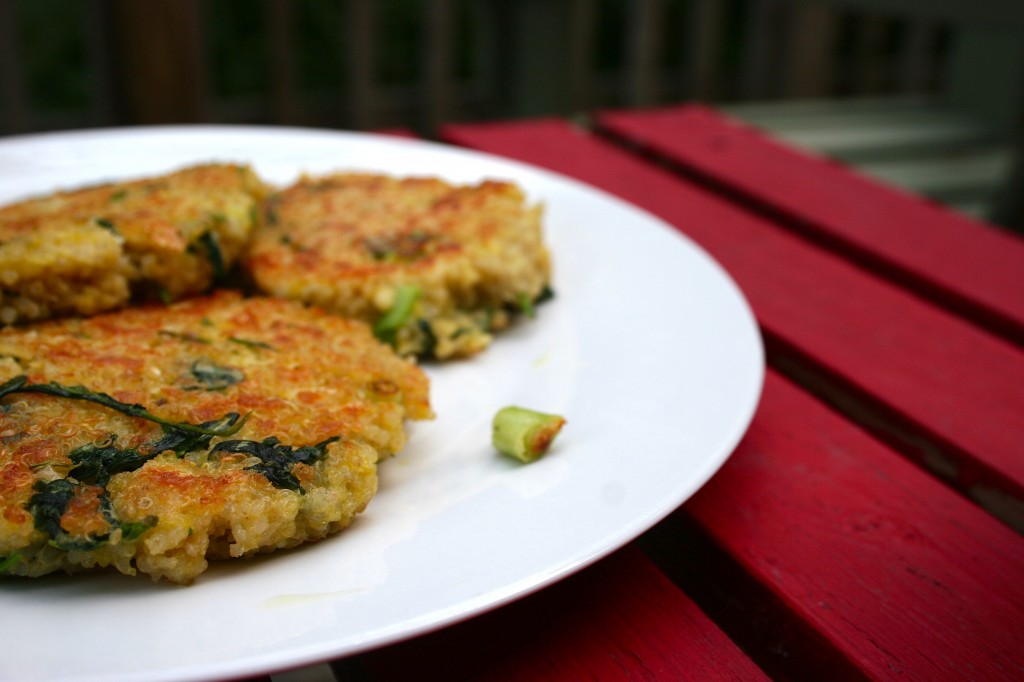 Confession: I've tried at least 5 different ways of making quinoa cakes over the last couple months and all were lackluster in taste, their ability to hold together as patties, or both. Despite continued disappointment, I would crave them — or some idealized, tantalizing version of them — so I'd try again…and again. Last night it finally paid off! The flavors were spot on and the cakes actually held together as cakes instead of turning into a mess of quinoa and other stuff in the pan, and they were the perfect consistency. The recipe might seem like a lot since it involves cooking the quinoa and letting it cool before you can really get dinner on, but if you think ahead a little and throw a pot of quinoa on to cook earlier in the week (or that day), or just have some already cooked hanging out in the fridge, it's a cinch. I highly recommend serving each cake with a spoonful of red pepper pesto, or any other saucy goodness that suits your fancy. This recipe will serve 2 for dinner or 4 as a side.
Quinoa Cakes
2014-09-14 07:20:07
Serves 2
Ingredients
1 1/4 cups quinoa
1 Tbs. olive oil
3 cups fresh spinach, coarsely chopped
3 cloves garlic, minced
3 large eggs, beaten
2 scallions, finely chopped
¾ cup panko or other bread crumbs
1 tsp. salt
1 tsp. freshly ground black pepper
2 Tbsp canola or other high heat oil
Instructions
1. Add 2.5 cups of water to a saucepan and bring to a boil. Add quinoa, reduce heat to a simmer, and cook until all the water has been absorbed (about 20 minutes). Set aside to cool. Quinoa can be made 1-2 days ahead.
2. Place a large skillet on medium heat and heat and add olive oil. Once oil is heated add garlic and sautee for a couple minutes. Add spinach and sautee until wilted.
3. Add quinoa, garlic/spinach, and rest of ingredients up to the canola oil in a large bowl and mix well.
4. Heat canola oil over medium heat in a large skillet (I use the same one I used for the spinach). Using about a 1/2 cup of quinoa mixture at a time, form patties and add to pan once oil is hot and shimmery. Cook for 5 minutes on a side or until nice and browned. I usually have to do 2 batches and keep the first batch warmed in the oven.
5. Serve hot as is or with a dollop of red pepper pesto or other yummy sauce.
Adapted from CherylStyle
eatsbykathy https://www.eatsbykathy.com/