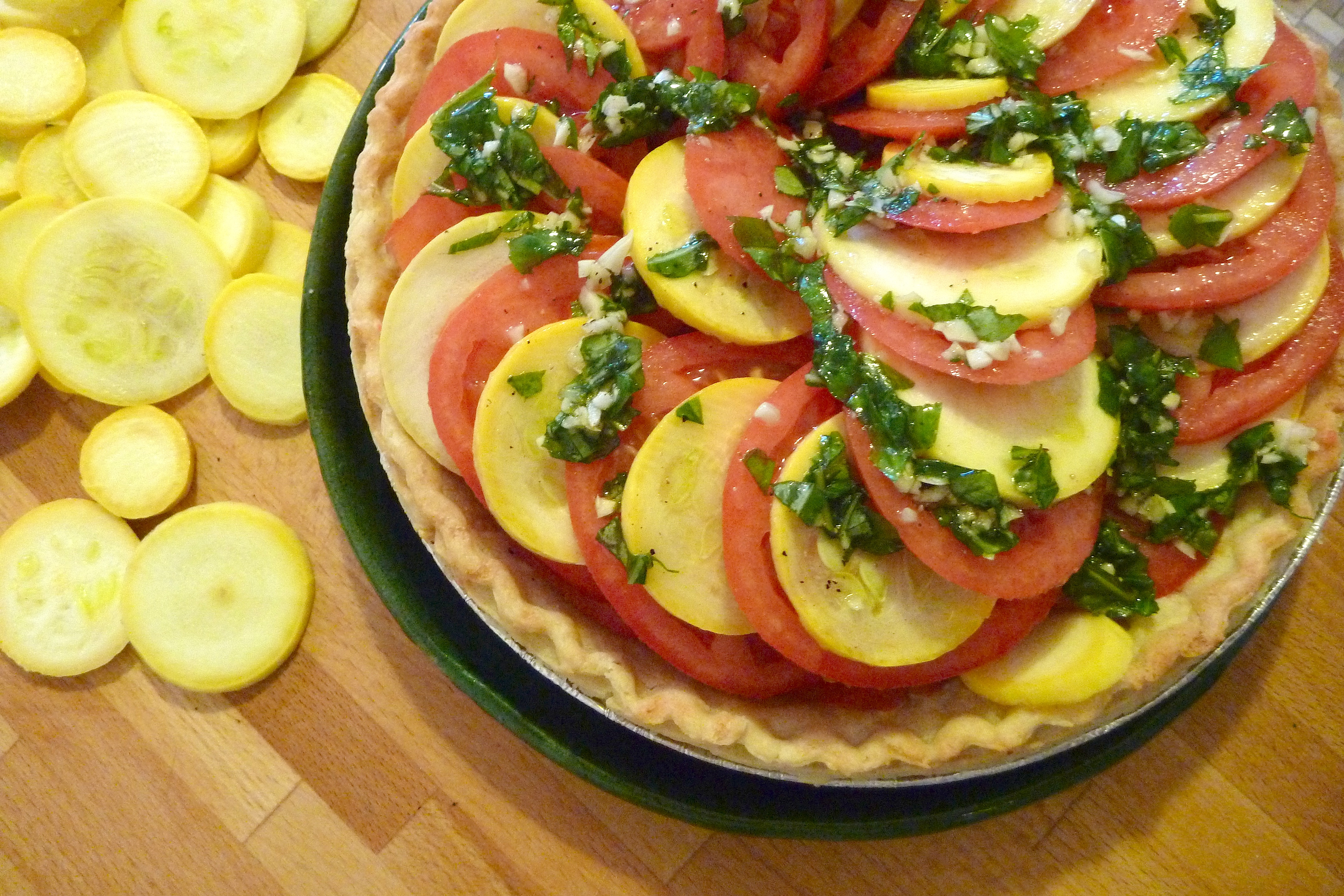 Drowning in tomatoes, zucchini, and basil? Then make this!! It's a lazy end-of-summer tart, with a flavor that's so fresh, bright, and full, you'll forget how easy it was to make. I know this sounds too good to be true, but trust me — after my first bite, I was kind of in love.
I found this recipe at a Blogging over Thyme and she really does it justice with her wonderful photography. A couple tweaks — first, I made the recipe quick and easy by using pre-made crust. I know it would be insanely flavorful with homemade, so if you're ambitious, head over there and follow her recipe. Second, I adjusted the amounts of ingredients for a typical store-bought 9″ crust and to avoid a really watery pie.
The summer veggies really shine in this recipe. Serve with a big salad and it'll make you glad the fall frost hasn't hit quite yet.
Tomato zucchini tart
2013-09-14 08:14:05
Serves 4
Ingredients
One 9″ pie crust
1/4 cup olive oil
1/4 cup basil leaves, finely chopped
3 garlic cloves
1/3 cup grated parmesan cheese
1 medium sized zucchini (~3/4 pound)
2 medium sized tomatoes (~3/4 pound)
salt and pepper to taste
Instructions
1. Pre-head oven to 400
2. Line crust with foil or parchment paper and pie weights or dried beans. Bake for 20 minutes or until bottom is dry.
3. While crust is baking, slice the zucchini into 1/8 inch rounds and the tomato into 1/4 inch rounds.
4. Combine the olive oil, basil and garlic in a small bowl and mix.
5. When crust is ready, brush with a light layer of the olive oil mix and spread parmesan evenly over the bottom.
6. Starting on the outside edge of the crust, tightly layer the tomato and zucchini slices alternately and continue until you have spiraled to the center of the crust. A second layer can be added, but make it a light one to avoid a watery result. If you want it to look fancy pretty use larger slices for the outside and smaller ones for the inner part of the circle.
7. Brush the top of the pie with the rest of the olive oil mixture and season with salt and pepper.
8. Bake for 30-45 minutes or until veggies are roasted and crust has browned.
9. Let cool a little and serve warm or at room temp.
Adapted from Blogging Over Thyme
eatsbykathy https://www.eatsbykathy.com/