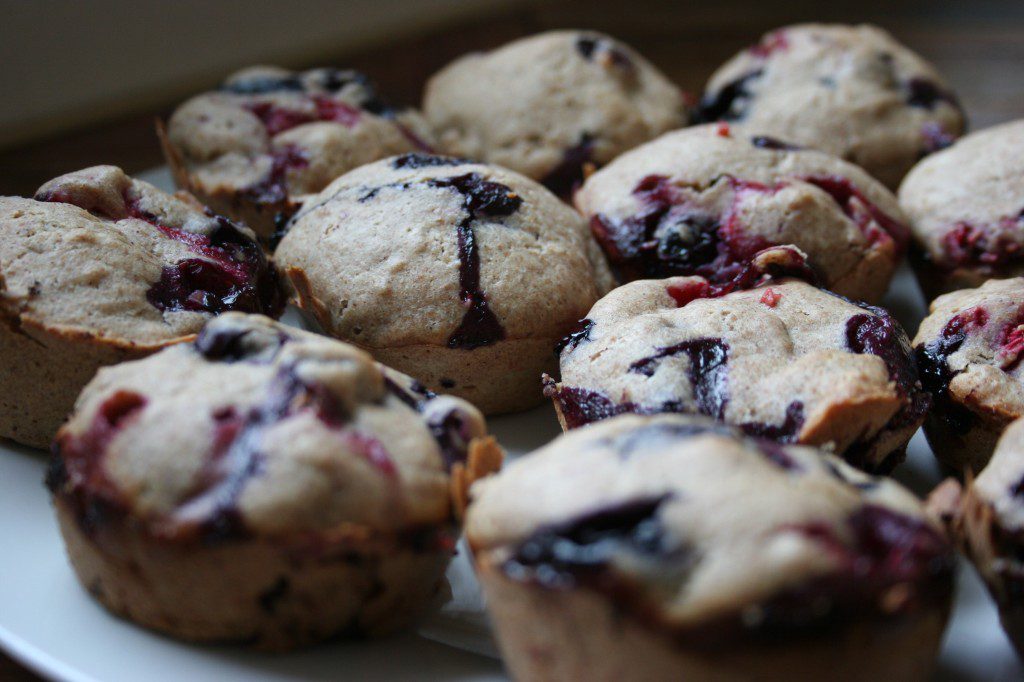 I did it! After five days of intense writing, I finished the written part of my preliminary exams. Given the months of studying, not eating as healthy as I would have liked, and fitting in exercise only here and there, I had been looking forward to having more time to take care of myself. I woke up imagining that today I would eat well, get in a swim and maybe a yoga class, and start getting back to my old self. But…then I got hungry. And all I wanted to do was eat blueberry muffins, warm out of the oven, split into halves with a pat of butter oozing into each half. Who was I to deny myself this vision after working so hard?
This recipe is adapted from Mark Bittman's basic muffin recipe in his book, How to cook everything. It is simple, but gets the job done and results in mouthwatering baked-good goodness. I'll do my healthy re-start tomorrow, or maybe later today. But for now it feels good to relax, sit on the couch, and eat some muffins.
Any berry muffins
2013-11-16 11:13:04
Ingredients
2 cups all-purpose flour
1/2 cup sugar, or to taste
1 tsp. cinnamon
1/2 tsp. salt
3 tsp. baking powder
1 egg
1 cup milk, plus more if needed
3 Tbs. melted butter or canola oil, plus some for greasing the pan
1/2 tsp. lemon zest
1-2 cups berries (blueberries, raspberries, blackberries, or a mix)
Instructions
1. Preheat oven to 400 degrees. Grease a standard muffin pan.
2. In a large bowl, mix the dry ingredients together. In a small bowl, beat the egg and mix in the milk, lemon zest, and butter or oil.
3. Make a well in the center of the dry ingredients and pour the wet ingredients into it. Mix with a rubber spatula until combined. The batter should be lumpy and thick but fairly moist. Add more milk if needed. Mix in the berries.
4. Spoon the batter into the muffin pan filling them about 2/3 full. If you want bigger muffins, fill each cup to the top and fill the empty cups with a little water.
5. Bake for 20-30 minutes or until browned and done in the center (test with a toothpick).
Adapted from Mark Bittman, How to cook Everything
Adapted from Mark Bittman, How to cook Everything
eatsbykathy https://www.eatsbykathy.com/