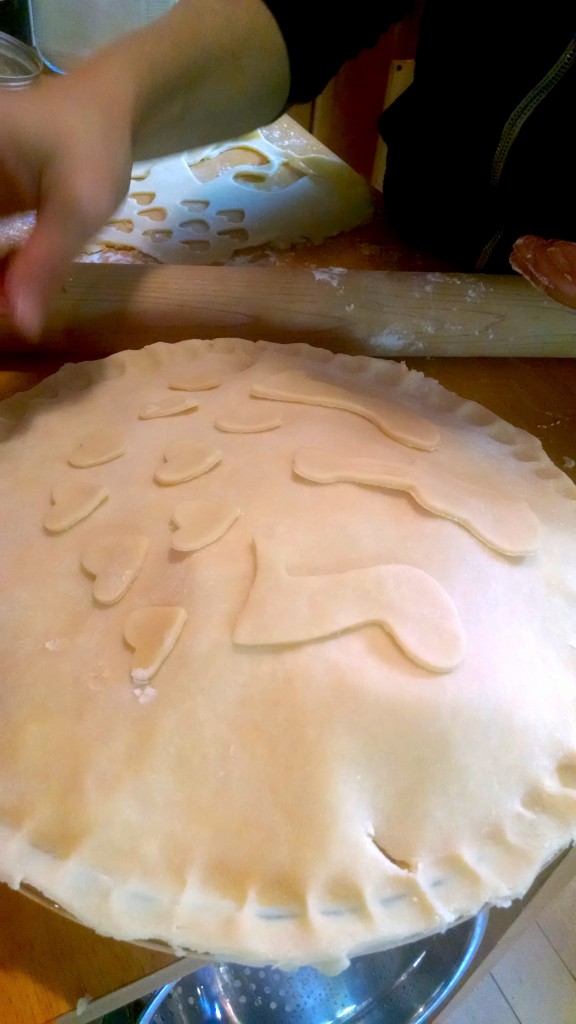 Because everyone needs a pie crust recipe. And because I learned a new pie crust trick last week! Add booze. Apparently, replacing part of the water you'd typically use to hold the pie dough together with vodka (or gin), makes for a more tender, flakier crust. It definitely resulted in the best pie crust I've ever made. This recipe makes a double crust.

Pie Crust
2015-10-25 07:53:20
Ingredients
2.5 cups unbleached, all-purpose flour
1 tsp. salt
1 tsp. sugar (optional)
2 sticks (16 Tbs.) cold, unsalted butter cut into small pieces
2 Tbs. chilled vodka
2 Tbs. ice water (plus more if needed)
Instructions
1. In a bowl (or bowl of a food processor if you have one), mix together the flour, salt, and sugar.
2. Add the pieces of butter and combine with your hand or a fork (or pulse in the food processor). Work until the dough is crumbly and there aren't any large pieces of butter.
3. Add vodka and water and mix until the dough just holds together. You can add more water if your dough is too crumbly but don't add to much and try not to overwork the dough.
4. Separate the dough in half. Form into discs. Wrap with plastic wrap and refrigerate for an hour (or up to a few days).
eatsbykathy https://www.eatsbykathy.com/